Trailer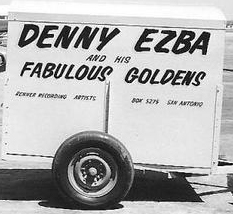 I grew up in San Antonio in a house located near West Avenue just north of what is now IH 10. Not the house across the street but the one next to it was a rental house. It was not unusual for me to see the above trailer in the driveway most weekdays.
On occasion I would see a bus in front of the house with the name Augie Meyers on the side. I have wondered why Augie's name was on the bus because I only remember him as the organist for the Sir Douglas Quintet. My only logical reasoning is that this was before he joined the Sir Douglas Quintet.
I also remember a fancy convertible regularly parked in front of the house. I really liked the car. But...I more vividly remember the driver of the convertible never stopping at the Stop Sign at the end of the street. I guess he was just luckly!
Harold
[ Home ]
Copyright 2018 – Harold and SanAntoinioRadioMemories.com – All Rights Reserved.