Remembering...
Don Couser
August 4, 1937 - April 18, 2013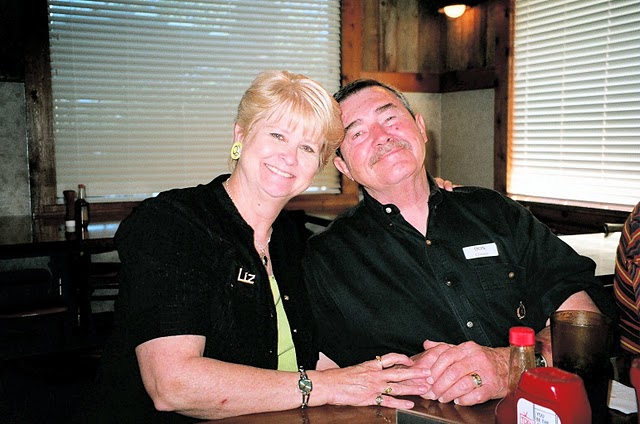 Liz and Don – 2007
Don was one of the reasons I got into radio.
When I was 8 or 9 years old I had my dad regularly take me to the KONO studios to pick up music surveys and visit Don Couser while he was on the air.
Later in life, Don was my professor at San Antonio College. What a way to learn broadcasting!
Swingtime with Don Couser replaced Captain Gus as my favorite local TV show.
Even later still, I looked Don up while he was still in sales at KTSA. I had just started as a meteorologist at News 9 San Antonio. He said he was proud to have former students still out there in the business and he was happy for my success.
Don was not only among the core of our group, but he was also a pioneer in San Antonio Broadcasting.
Marc Gomez
What a talent we lost! Don was a fine human being and a consummate radio professional.
Don, George and I worked together on KONO back in the early to mid 60's.
I will always remember the KONO charity basketball games. One year we had a 32 game schedule! Don was quite a player. I think he once told me that he was a Texas honored All State player in high school. What fun we had! And...What a team! Don Couser, Skinny Don Green, B. Bailey Brown, Nick St. John, newsmen Tom Ellis and Dick Porter and lastly...me.
We could never get Howard Edwards or Lee Baby Simms out on the courts however.
Don had such a "fertile" mind when using George The Duck. I always thought he had the best, understandable duck voice I ever heard.
We decided to have George "kidnapped" or "ducknapped" as we put it. It was a planned bit. It went on for a day or so, with the police putting out an alert for George.
Don set up a bit that had George on the phone calling in from Mexico. I forget what the "ransom" was, but George was starting to like Mexico...Especially the bars!
It was at that point that we realized how many little kids listened. We had parents calling in or coming by the station pleading for us to get George back so their kids would stop crying and go to sleep at night.
We decided we'd better alter our plans, have George "escape" and return via the KONOKopter. Channel 12 covered George's return. We got a real duck and had it exit the door of the helicopter as the cameras rolled. People cheered. Music played. Oh my! It was truly a big time event that had all of San Antonio buzzing about for days.
Don graciously allowed me to sometimes co-host the "Swingtime" television show.
Don Couser not only made San Antonio a more wonderful place live but also radio a more exciting profession to be in.
Gary Allyn
[ Home ]
Copyright 2013 by Marc Gomez, Gary Allyn & SanAntoinioRadioMemories.com – All Rights Reserved.