KYFM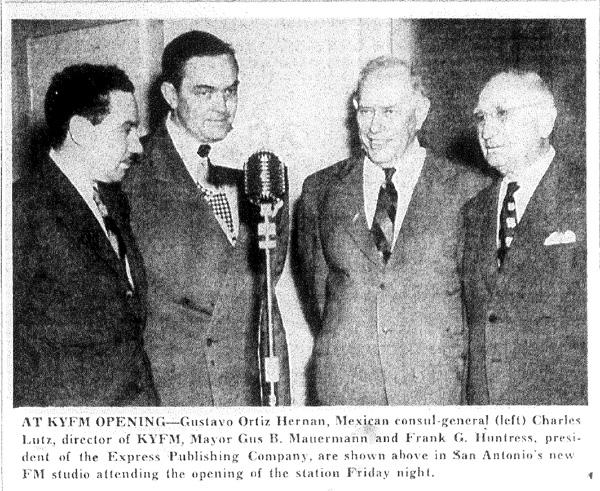 San Antonio's first FM station KYFM (owned by the Express Publishing Company) went on the air November 1, 1946.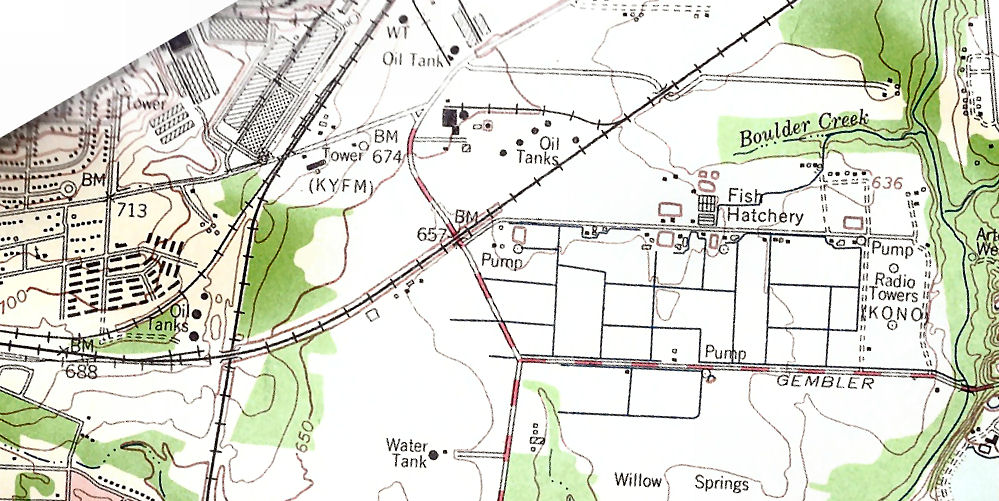 The transmitter site was located south of what would become US81 and just west of Coliseum Road. The transmitting antenna was mounted on a self supporting tower at that location. The KYFM Studios were located on the fifth floor of the Express Building.

San Antonio FM Radio Stations listed in White's Radio Log (Volume 24 Number 2) for Spring 1947 (April, May, June) are:

100.1 KISS
101.5 KYFM
102.3 WOAI-FM

In 1948 Radiocraft Magazine reported there were four FM stations on the air in San Antonio:

92.9 KONO-FM
99.5 KISS
101.5 KYFM-FM
102.5 WOAI-FM

Note the KISS and WOAI-FM frequency changes.

KYFM is not listed in White's Radio Log after 1950. Nothing definitive has been found to indicate what happened to KYFM. What is known is that The Express Publishing Company bought KGBS-AM and changed the call letters to KENS during that time frame.

When US81 became IH35 and was widened to 6 lines, from looking at older maps, the former KYFM tower site is now covered with asphalt.

According to the 2020 FCC Database 102.5 is no longer in use in the San Antonio area. 101.5 is used for Low Power FM (LPFM). KROM are now the call letters for 92.9. What is interesting is that KISS are still the call letters for 99.5 just like it was in 1948.

Ed Engelken

Editors Note: Does anyone know anything about the fish hatchery located near the KONO Transmitting Towers on the right-hand side of the above map?

Photo Credit: Express Publishing Company

More Editors Notes: According to Herb Carl (and verified by Bill Kiley) because there were so few FM radios in the late 40s and early 50s KONO-FM was just a similcast of KONO-AM. Additionally KONO-FM had a very small coverage area because the transmitting antenna was located on a pole on top of the KONO Building on Arden Grove. The KONO-FM antenna was relocated much higher for much better coveraage once the channel 12 tower was built behind the KONO Building. Additionally at that time the call letters were changed to KITY.

[ Home ]
Copyright 2020 by Ed Engelken & SanAntonioRadioMemories.com – All Rights Reserved.