Denny Ezba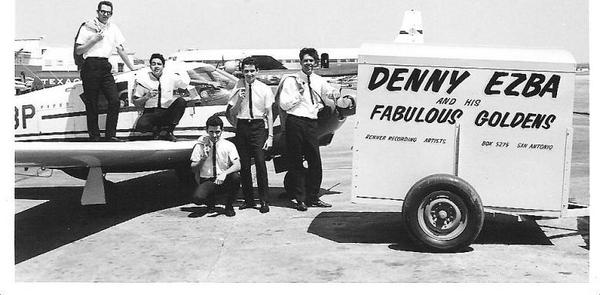 Denny Ezba—one of San Antonio's bright rock-and-roll stars in the early 1960s—enjoyed a career that lasted into the mid 70s that included blues, hard rock and country, before it was over.
Denny, rather prolific with his writing and recording, made records for several of the local San Antonio recording companies. Early hits included "For The First Time," "Mary Diane," and the upbeat "Dirty Dirty Feeling."
Denny started his career during the "Elvis" era, with much of his onstage act patterned after Presley. This good-looking guy knew how to rock the up-tempo numbers and deliver the ballads in a way that made the teeny boppers swoon.
Denny told me that some of the best times he had, on the road, were the movie theatre tours of South Texas towns in the early 1960s. The tours were set up by Hall Industries theatres and KTSA radio. KTSA DJ Bruce Hathaway accompanied the top, local bands for a series of quick concerts at Hall Industries theatres in towns such as Kenedy, Beeville and Three Rivers. Sometimes the tours included a top national act like Johnny Burnette or Roy Orbison. Orbison's parents lived in Kenedy for a time in the early 60s and Roy's younger brother, Sam, attended Kenedy Junior High School.
The first time I ever saw Denny Ezba and the Goldens? During one of those tours that stopped at the Rialto Theatre in Kenedy, Texas, probably around 1961.
Denny was the closet thing to a teen-idol front-man most of us had ever seen and he had a great command of the audience. I remember being impressed that the band played Del Shannon's "Runaway," just like the recording, and the keyboard player played a note-perfect solo in the middle of the song. That keyboard player? None other than Augie Meyers who soon found fame with the Sir Douglas Quintet.
I became close friends with Denny Ezba later in his life. He was jobless and basically homeless. I occasionally took him out for a meal. He enjoyed talking about the old days of rock-and-roll and those movie theatre tours.
Not many people know that Denny was brilliant in science and math. He not only served as a tutor to many San Antonio students, he also taught at San Antonio College and UTSA, among other schools.
Denny passed away of natural causes, January 2002.
Steven O. Sellers
We did the movie theatre shows for over 3 years in just about every city in Texas. The promoter was Jimmy Goodman who had an interest in Hall Industries.
I remember seeing Steve at the Kenedy shows. He was a young boy who many times helped unload for the show.
We did as many as 5 shows a day. We might start in Kerrville and end up in Kingsville for a midnight movie.
Yes...Those were great times and great shows with many great stars.
We always made our headquarters at the Ranch Motel on Broadway in San Antonio. That old upstairs room is still standing today. Many great rock and roll stars stayed in that room before hitting the road for a weekend full of towns and shows.
Bruce Hathaway
[ Home ]
Copyright 2013 – Steven O. Sellers, Bruce Hathaway and SanAntoinioRadioMemories.com – All Rights Reserved.