Ricci Dance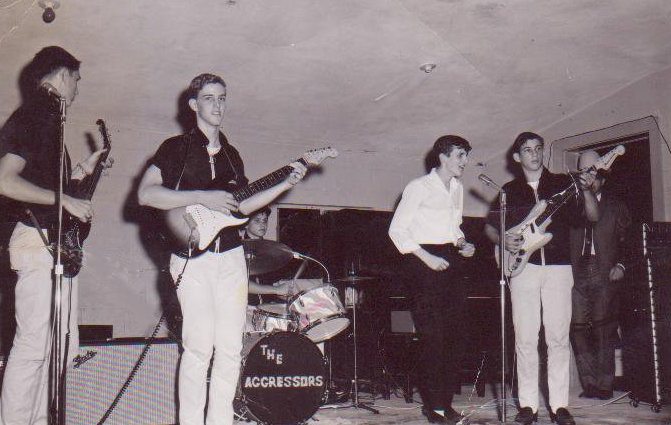 The Aggressors and Ricci Ware - The Holiday Inn at Lake McQueeney.

We had just gotten into my car after I had picked up my Saturday night date when she asked if I would mind if we didn't go to the movies that night since there were none she was interested in seeing.

I was about to suggest playing miniature golf at Coolcrest when she informed me that she had heard a spot on the radio for a Ricci Dance at the Holiday Inn at Lake McQueeney. She would very much like to do that instead.

I informed her that I had never been to Lake McQueeney or The Holiday Inn there and I did not know where they were located. She immediately stated that she had brought along a map and flashlight and she would get us there.

After what seemed like an eternity of driving (including many back roads) we pulled into the parking lot of The Holiday Inn. I was immediately surprised at how few cars were in the parking lot. I asked her if we had arrived too early. She immediately informed me that according to the radio spots, the dance had started over half an hour before our arrival.

I was glad to hear the band playing as we walked up to the entrance from my car. When we reached the door, I paid the young man there for our admission and we walked in.

Now I was even more surprised. We were the only two people other than the band and employees in the whole place. We sat down and listened to the band play for about 30 minutes. Then the band took a break and we were still the only two paying customers in the place. At that point my date looked at me and asked if I minded leaving. She didn't have to mention it again. I was ready to leave.

A couple weeks later Ricci Ware was no longer on the air at KTSA and the Ricci Dances went out of existence.

In case you are wondering, we did end up playing miniature golf.

John Ross

Editors Note: After KTSA Ricci worked at KITE. Even later he worked mornings at KBUC with Jud Ashmore. Ricci finished his radio career at KTSA.

[ Home ]

Copyright 2021 by John Ross and SanAntonioRadioMemories.com – All Rights Reserved.