Breaking News


More than 40 years ago San Antonio suffered one of its darkest days when a deranged lone sniper took aim at hundreds of innocent spectators during the Battle of Flowers Parade.

For me, the day began innocently enough. I was in my car at the corner of Bandera Road and Loop 410 eating a hamburger when I got a call on my car phone from my KKYX news director, Joe Simpson. Joe didn't call me often but this time I noticed a certain urgency in his voice.

"Are you at the Fiesta parade?" he asked.

I replied "No." "I didn't think there was much going on there, so I skipped it" I explained.

"Well get down there right away. Shots have been fired."

I didn't need any further explanation, so I gobbled down the rest of my burger and drove down to the Battle of Flowers Parade as fast as my car would take me.

As I approached the downtown area, I could see that a lot of streets near the parade route were barricaded. At one such intersection I saw a couple of uniformed cops standing by their barricade and wondered whether it was part of the normal street closure or part of a police lockdown.

"What's going on?" I shouted from my car window.

They looked at the KKYX plates on my car then they looked at me. They seemed puzzled by my question. I then concluded they hadn't heard anything about any sort of shooting. I then wisely decided that I wouldn't be the one to blurt anything out about the shooting.

Via my car radio telephone, Joe directed me to the beginning of the parade on Broadway. He still wasn't sure of what was going on, but we both knew it was going to be big.

I arrived near the old Pearl Brewery and discovered that due to the crowds I could get no closer. I ditched my car along a side street and grabbed my essential recording gear. I hustled my way to the actual parade route where I cut my way through the four-deep crowd and emerged onto the bare street. The revelers had absolutely no idea of any trouble. They were just waiting for the parade to begin.

Amid a chorus of catcalls and jeers, I started jogging up the middle of Broadway towards the eye of the storm.
"Hey man, slow down. Take it easy." They laughed. "What's your hurry?" They yelled. "You're going the wrong way."
Had they known the true situation, I'm convinced there would have been sheer pandemonium. No doubt there would have been mass scrambling to escape. I, on the other hand, was running towards the shooting.
History will record that on that day, April 27, 1979, 64 year old Ira Attebury would take a sniper position in a motor-home parked at the corner of Broadway and Grayson. Neighbors would later describe him as a strange recluse who would often complain of harassment and mistreatment.
Over the course of an hour or so on that Friday afternoon, Atteberry would take random shots at innocent men, women and children. In those frightening minutes, there would be acts of heroism and bravery by the police that are still recounted to this day in the Alamo City.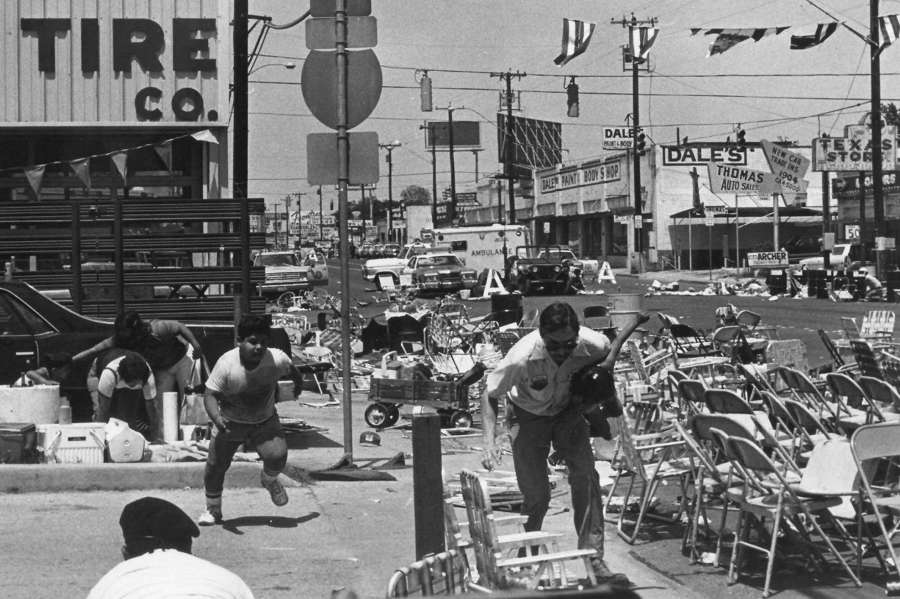 There would also be odd coincidences and circumstances that no doubt lessened the impact of that horrible day. For example, Police Chief Emil Peters, dressed in his ceremonial uniform, happened to be nearby when the first shots rang out. He was among the city officials scheduled to actually lead the parade. And by coincidence, a radio colleague from WOAI just happened to be leaning up against the motor-home itself when the gunman unleashed his barrage. As I remember, she took cover under the vehicle as police traded shots with the sniper. She had unwillingly become part of the story. Fortunately, she escaped unharmed.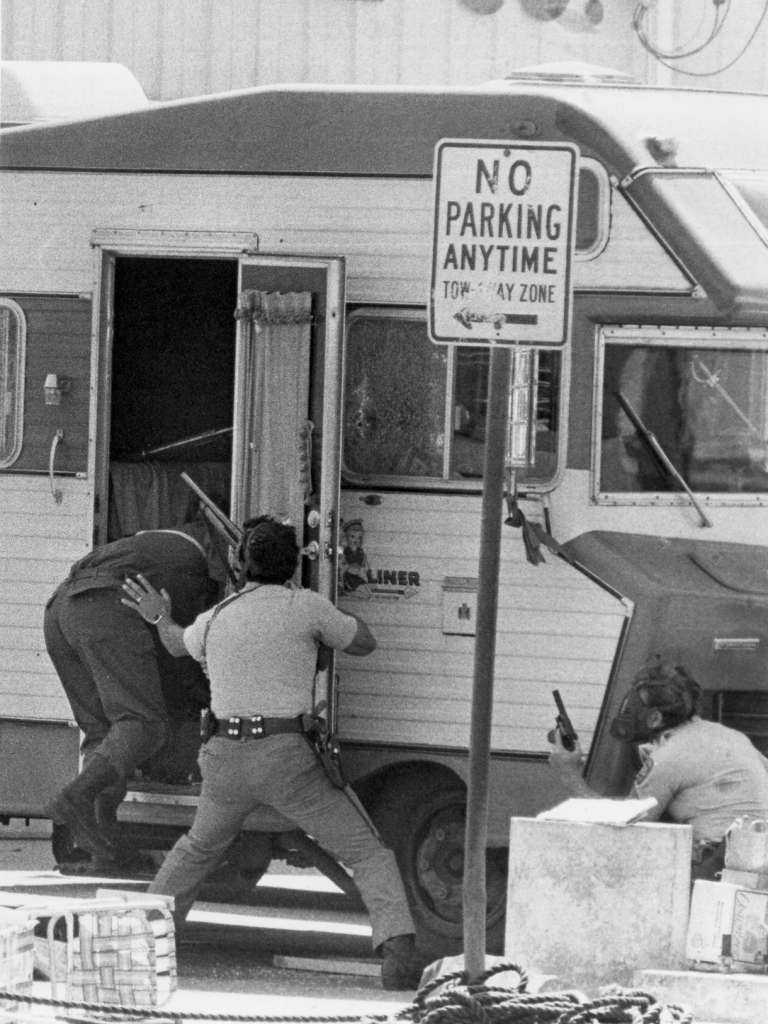 About a block from the shooting site, I took cover behind a bank building. I wasn't alone, however. I was next to a cop armed with just his service revolver. I didn't dare peer around the corner of the building myself because, like a lot of other people, I didn't know where the shots were actually coming from. The cop I was standing next to was another story. He had his gun drawn as he carefully peeked around the building and then looked back at me. "I'm going in!" I remember him telling me several times. I was absolutely terrified at the thought of what might happen next. But thankfully, he never advanced any further and eventually abandoned the idea of storming the motor home alone.

The bank unlocked their doors and kindly let me use their phone so that I could call the station and report what I did know. They put me on the air live as I described the tense and dangerous scene near the parade head. If parade goers hadn't known what was going on, they certainly knew by now as the local news outlets organized their coverage. I called the station a second time and this time they patched me into the Texas State Network. Again, I went live on the air to our network radio affiliates. I secretly hoped that my parents in Houston would not panic if they heard my on-the-scene reports.

After many tense minutes, the all clear was finally given. Police had managed to neutralize the shooter and secure the scene. I didn't dare get any closer to the shooting scene, but about a block away I saw Chief Peters walking with his top brass. Since I was a police reporter, I recognized the Chief immediately. Many of the TV guys were not as lucky. I pulled the chief to the side and began my questions. Once the camera crowd realized who I was talking to, a sea of microphones popped up as he summarized the police response.

By the end of the day the death toll from the rampage would be 3 with more than 50 others injured. Two female victims were killed for no reason other than because they were within easy range of the sniper. The third death was the gunman himself. Police found him dead alongside a small arsenal of weapons when they finally stormed the motor home. The medical examiner ruled it was a self-inflicted gunshot wound.

To this day no one knows the gunman's motives. Some say he was high on drugs. Others said he was mentally ill. I heard he was dying of brain cancer. But no matter the motive, with more than 275,000 spectators lining the parade route on that hot San Antonio day, the death toll could have been worse. Much worse!

Rod Rodriguez

[ Home ]
Photo Credit: San Antonio Express-News (MYSA)
Copyright 2020 by Rod Rodriguez & SanAntonioRadioMemories.com – All Rights Reserved.